Teaching Children Math With Music!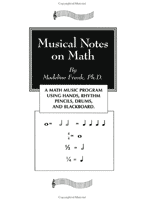 She developed her unique, one of a kind, math to rhythm program for her children.
Her oldest son, was not doing well in math. His math book had eight different authors and each page contained eight different concepts. She decided to simplify this to only one concept per page. Children learn concepts one at a time and build on this foundation. Her children have always enjoyed music and what makes music special is the rhythm
---
Order Today!
More About: Musical Notes on Math
Tips on how to use Musical Notes On Math.
This unique concept, a math to rhythm program, has made it much easier to understand math. She began writing math to rhythm equivalents to make it easier for her son to understand the math concepts. She did it step by step. We made it into a game.
When it was her younger son's turn to begin school, she had already developed the step by step math to rhythm program and it became a fun game to do at home. In his kindergarten class his teacher used to say he was very capable of teaching his class math. In first grade his teacher developed an advanced program just for him. He has been in the advanced math classes ever since. Children learn math through the rhythm of music by visually seeing the math to rhythm combination, by clapping and tapping the rhythms and by hearing the combinations.
Testimonials on the book "Musical Notes On Math"
"The kids, as well as the parents, loved this amazing concept. It's fun and inspires healthy responsibility in learning math. Musical Notes on Math is a celebration of sorts…cutting out the frustration so many kids run up against while allowing them to feel like winners! As a former teacher, I was totally blown away with the whole interactive theme resulting in positive enlightening results for parents, kids and teachers. Dr. Frank has created something unique and extraordinary."
Jodie Lynn, syndicated parenting/health expert, Parent to Parent, CEO/founder of AddingWisdomAward.com, and author of family/health book, Mommy-CEO.
"Musical Notes On Math is a wonderful way to integrate music into the math curriculum while teaching rhythm at the same time. If this program were started in the kindergarten it could make learning math much easier and make learning fractions a natural process that kids would enjoy."
Jeanne Golner, classroom teacher of 26 years
"Her workbook, "Musical Notes On Math," teaches students to enjoy math through music. Geared to students in grades kindergarten through 5, the book offers simple musical exercises that help students learn fractions, decimals and multiplication through rhythm."
David Nicholson, The Daily Press & Times Herald
"Help for the Mathematically Challenged! In her program workbook, "Musical Notes On Math," she provides curriculum for students in kindergarten through fifth grade that has been successfully tested by teachers in southeast Virginia. Dr. Frank's program makes teaching and learning math a much easier and fun process for both teachers and students. I only wish Dr. Frank's program had been available when my son was in school and struggling with math."
Cassandra Lynne, author of "Love Speak: The Married Woman's Guide to Love and Romance"
"Math benefits from the fun of music. Just like I decided long ago that I'd rather get in good physical condition by playing games (instead of boring exercise), Madeline Frank shows how music can be a great "game" for learning math."
Dennis Marcellino "Why Are We Here? The Meaning of Life"
"Dr. Frank's "Musical Notes On Math" is a wonderful interdisciplinary study that seems almost guaranteed to make mathematical concepts simple. Children of all five learning styles can benefit from these exercises that will have children smiling."
Elizabeth Hamilton, author of "Character-in-Action books"